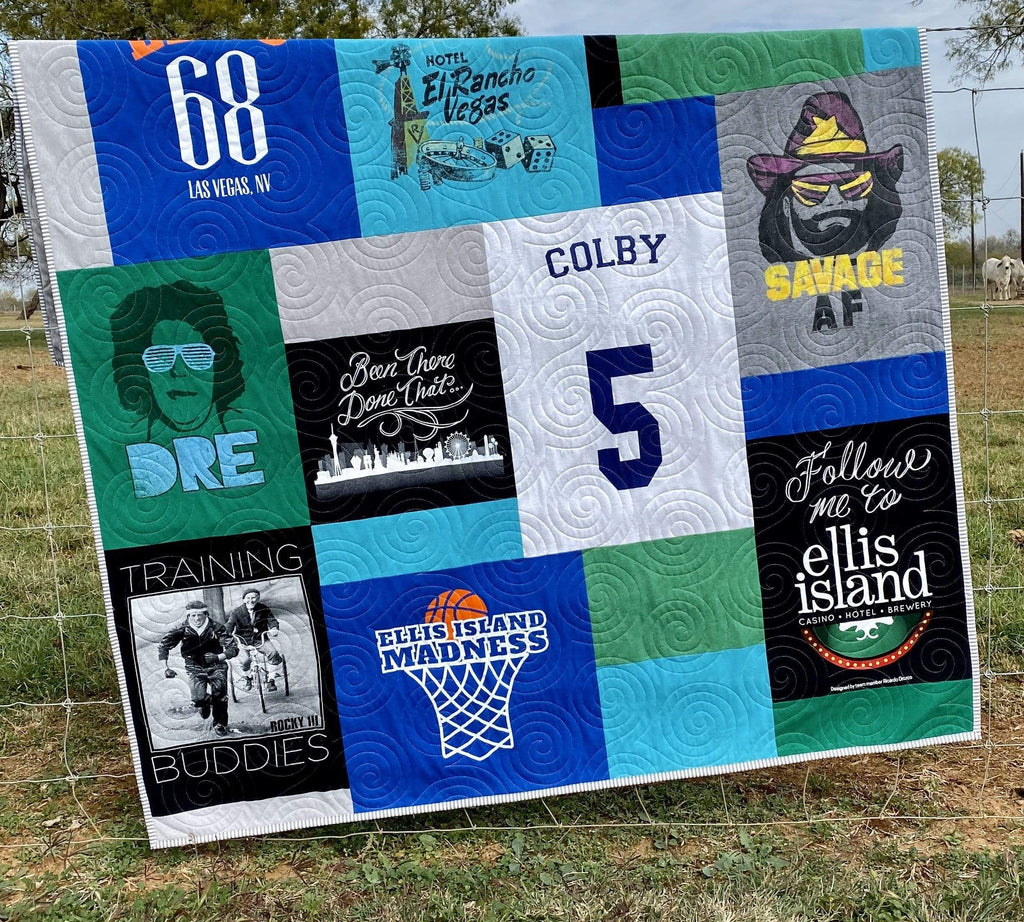 Mosaic T-Shirt Quilt DEPOSIT Memory Blanket Graduation Gift Tee Shirt Personalized Custom Father's Mother's Day College University Sports
---
This listing is for a DEPOSIT ONLY for a custom T-Shirt quilt designed around your shirts. The remaining balance plus shipping will be due once your quilt is completed and ready to ship. Our current timeline is 3-4 MONTHS for custom T-Shirt quilts. This may increase during busy periods so please place your order quickly if you need it by a certain timeline. All other quilts listed in our shop are ready to ship!

Prices can be seen below:
BABY quilt approx. size 38"x50" (up to 8 shirts) $450
LAP quilt approx. size 55''x 60'' (up to 20 T-shirts) $580
XL LAP quilt approx. size 58''x 70'' (21-25 T-shirts) $690
TWIN quilt approx. size 60''x 80'' (26-30 T-shirts) $920
XL TWIN quilt approx. size 65''x 90'' (31-35 T-shirts) $1,070

The prices above reflect the cost of the t shirt quilts. Since this type of t-shirt quilt is designed around your shirts completely the exact size will not be known till we have the shirts and start laying them out. I will work with you through this process. Please respond to my emails in a timely manner. It may delay your order if not.

Once we receive your deposit you will receive an email to the email address listed on your order with instructions on how and where to send your shirts. If you have other items besides shirts please get with me before to make sure they can be used in the quilt. Please do not cut your shirts, we will do this for you. If you have already cut them please let us know ahead of time. Please indicate whether you want the front, back or both sides of your shirt used. (Front and back will count as 2 shirts.)

The price listed above will include any extra materials we will need including backing and binding. I will send you some coordinating options to choose from when the quilt top is completed. Minky backing is available for our quilts and is included in our prices. It is not extra for minky backing. Regular cotton backing options are also available. IMPORTANT: We only offer quilts up to an XL twin size at this time due to how our quilting machines are setup. Thank you for your understanding.

Your quilt will be three layers stitched together, with the middle layer being a natural cotton batting. It will be professionally quilted on a long arm quilting machine; stitches even, tight, and dense which makes it very high quality lifetime quilt. A traditional double-fold coordinating binding around the edges ensures the quilt will stand the test of time! Handmade in the USA Floresville, Texas in a clean, smoke free environment. Some shrinking will occur with the first wash. Care includes wash on delicate, tumble dry low heat or hang to dry. Do not use fabric softener with minky.  
IMPORTANT:
~~~ Please message me if you have anything besides t-shirts and I will let you know if they can be used.  Things we can NOT use in our designs: baby clothes, onesies, thick embroidery logos, 3D objects, baseball jerseys that are button up with logos on both sides, rhinestones, buttons etc.  Our quilting machines have to be able to sew through the quilt.
~~~ Do not cut your shorts, we need the WHOLE shirt.
~~~ Please wash all your shirts in just water before sending them to us.  Please do not use fabrics softener or detergent.
~~~ Please label your shirts as to what you would like to use.  Please use the size price chart for the amount of shirts.
~~~ If you need it by a certain date please let me know right away so I can mark your order.

Follow us on Facebook https://www.facebook.com/KristinBlandfordDesigns or signup for our newsletters http://eepurl.com/b7V2Gb
---
Share this Product
---
More from this collection